General Terms and Conditions
GENERAL TERMS AND CONDITIONS ZIVAANO  STYLING
Zivaano is registered at the Chamber of Commerce in Amsterdam under number 64080900 and VAT number NL002059141B42.
ARTICLE 1 | GENERAL
1.1 The General Terms and Conditions of Zivaano apply to all offers, orders, agreements and deliveries if Zivaano. By ordering you agree with these general terms and agreements.
1.2 One can only deviate from these terms in writing, in which case all other conditions remain fully effective.
ARTICLE2 | AGREEMENT AND ORDER
2.1 The agreement becomes effective from the moment you've placed your order by clicking 'Place order' on the check-out page (the final form you've filled during the order process, where the product description and the invoice address are mentioned). ZIVAANO processes your order after this has been placed by filling the order form in the webshop.
2.2 When your order is confirmed you'll receive an e-mail on the e-mail address you've given. When you have not received an e-mail your order is received anyway and will be processed.
2.3 On our webshop you'll find original pictures of the articles. All these images are indicative only and ZIVAANO is not bound to these in any way.
2.4 The prices in the webshop are in Euro's and include 21% VAT. ZIVAANO reserves the right to adjust prices. The adjustments are valid from the moment these are put on the webshop. The adjustments are not valid for goods already purchased.
2.5 ZIVAANO may reject an order and/ or terminate an agreement if there are plausible signs you cannot meet the obligations. In such case ZIVAANO will let you know within 14 days after order.
ARTICLE3 | OFFERS
3.1 All offers on our webshop are without obligation, unless otherwise mentioned. Apparent errors or mistakes in the offer(s) do not commit ZIVAANO.
3.2 Discount vouchers received via ZIVAANO can be made inactive by ZIVAANO at any time.
ARTICLE4 | SHIPPING COST
4.1 ZIVAANO calculates 6,35 Euro shipping cost within The Netherlands. You won't pay shipping costs in The Netherlands when the order value exceeds 100 Euro. For shipping to foreign countries (other than The Netherlands) refer to below table (prices are indicative based on fixed rates). If current rate is off more than 10% of the fixed rate used it will be charged.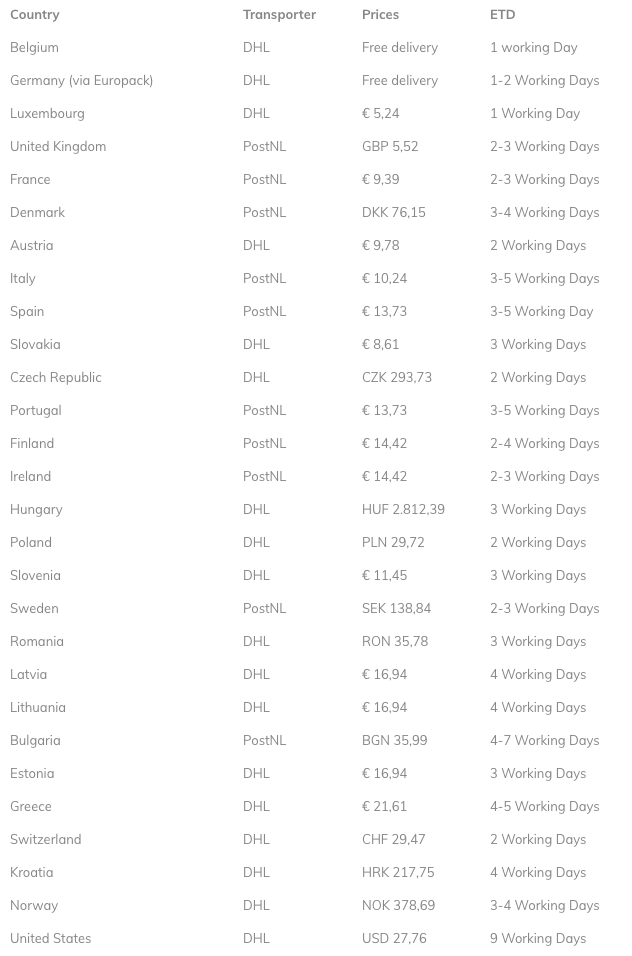 ARTICLE 5 | DELIVERY
5.1 At ZIVAANO we'll strive to have your order sent off within 24 hours after receipt of payment. For goods shipped within The Netherlands these will ultimately be delivered 5 days after order. When this is not possible, for example because the article is not in stock, an order can only be partially executed or an order cannot be fulfilled at all, you'll receive a message within 24 (i.e. twenty-four) hours after you've placed your order. In this case you'll have the right to cancel your order free of charge.
5.2 You are obliged to accept the goods on the moment onto which these are made available to you.
5.3 In case ZIVAANO requires details from you to process the order the order period will only start after the moment you've given these details.
5.4 In case you've given a wrong address to have the goods shipped to any additional shipping costs are for your own account.
ARTICLE 6 | SHIPPING & TRANSPORT
During the transport of your order ZIVAANO will bear the risk in case of damage, theft or loss. The moment the order has been accepted by you the risk is transferred to you.
ARTICLE 7 | PAYMENT AND PAYMENT METHODS
7.1 At ZIVAANO you can choose from following methods of paying: direct bank transfer, iDeal, CreditCard, Bancontact / Mister Cash, PayPal, SOFORT Banking and KBC/CBC .
7.2 Payments with iDeal, CreditCard, Bancontact / Mister Cash, PayPal, SOFORT Banking and KBC/CBC will be through secured connections from Mollie.
ARTICLE 8 | TRIAL PERIOD
8.1 Client satisfaction is important for ZIVAANO. When you are not pleased about your order you can after delivery return it, without giving a reason, within 14 (fourteen) calendar days to: ZIVAANO, Dorpsstraat 2, 8171 BP Vaaassen, The Netherlands. You can terminate the agreement or swop article(s). To do this you need to notify ZIVAANO within 14 calendar days by filling the contact form on the website and send the return form with the goods to ZIVAANO.
8.2 The (shipping) costs to return goods are for your own account.
8.3 Returning or swopping is only possible when the goods are in an undamaged, packed state, not worn, not (dry) cleaned and is accompanied by the original and undamaged shipping box and informative flyers. ZIVAANO remains entitled to refuse returned goods. This will only happen when the returned goods in our opinion do not fulfil above criteria. When the returned articles are damaged as such these cannot to be sold anymore 10% of the list price will be deducted from the amount to be credited.
8.4 In case you'd like to swop an article you need to notify ZIVAANO within 14 calendar days by filling the contact form on the website. In this form you'll point out you'd like to swop and advise order number, the description of the article and article number and indicate which article you'd like to receive in return. When we have received and checked the returned goods we'll ship the new article to you.
8.5 When you'd like to return the goods and request to be credited you need to notify ZIVAANO within 14 calendar days by filling the contact form on the website. In this form you'll point out you'd like to return your order and advise order number, the description of the article and article number. You need to complete the return form and send it along with the goods. The amount to be credited will be deducted with shipping costs, will be done after we have received and checked the returned goods within 30 (thirty) calendar days.
ARTICLE 9 | LIABILITY
9.1 ZIVAANO's liability for direct and indirect damage, caused by an article purchased from Zivaano's webshop is in any case limited to an amount which equals the list price, unless this damage results from wilful misconduct or gross negligence by ZIVAANO.
ARTICLE 10 | EVENTS OUTSIDE OUR CONTROL
10.1 In this article by 'events outside our control' is meant; all shortcomings which cannot be blamed to ZIVAANO.
10.2 In case of an event outside our control causing ZIVAANO not to fulfil its obligation the obligations will be postponed for the period of the event. After 30 (thirty) days both parties have the right to cancel the agreement partially or wholly by a written statement, without a right to any compensation.
ARTICLE 11 | WARRANTY
11.1 ZIVAANO warrants that their goods meet the usual regulations and standards which reasonably can be appointed on moment of purchase and for which these are intended under normal use in The Netherlands.
11.2 You need to inspect the delivered goods when these have been delivered, or at least during the trial period. Doing so you should check if the quality and quantity of the delivered goods agrees with what has been purchased, at least meets the standards which are valid in normal trade environment.
11.3 After the in article 8.1 stated period has passed ZIVAANO has the right to charge costs covering repairs/ exchange, including administration and shipping costs.
11.4 Warranty as mentioned in this article will void when the deficiency is caused by as a result of improper or unauthorized use or when, without written approval from ZIVAANO, you or others made changes or attempted to make changes on the subject goods or have applied these for purposes for which the product is not intended.
ARTICLE 12 | DISPUTES
12.1 On all legal relationships in which ZIVAANO is party only the Dutch law applies, even when the agreement will be partially, or wholly, executed in a foreign country or when the law related party has its domicile there. The application of the UN international trade law (CISG) is excluded.
12.2 ZIVAANO will always try to solve an arising issue with you. If there is no joint resolution then a case should be submitted by the party to a competent court in the district of Amsterdam.
ARTICLE 13 | COPYRIGHT PHOTOS AND IMAGES
13.1 On all photos and images shown on ZIVAANO's website copyright is applicable, whatever the mode of distribution or the form in which they are delivered. Without ZIVAANO's permission photos and images may under no circumstance be disclosed and/ or copied.
13.2 In case you do make use of a photo or image without ZIVAANO's written approval you will be ordered to stop using, and also a claim is made for you.